It's one of the hardest things I've ever done, and I didn't choose it so much as it chose me. All I had to do was say yes.  It's like looking into a mirror. There's no arguing with the reflection. It's just what is… Reflected back is the good, the bad, the ugly. Do I have the strength to face it, and accept it for what it is? We're going to find out. My past, my present, my future, who I am, where I've been, where I am, where I still need to grow… it's all there. For thirty years, I've lived far from my family and forged my own path. Now I've returned to them to care for my new baby niece. There's no taking the baby and running. I am here for the foreseeable future, and I recognize that if I am going to be a good caregiver to R., I need to continue to face and understand myself and my family dynamics.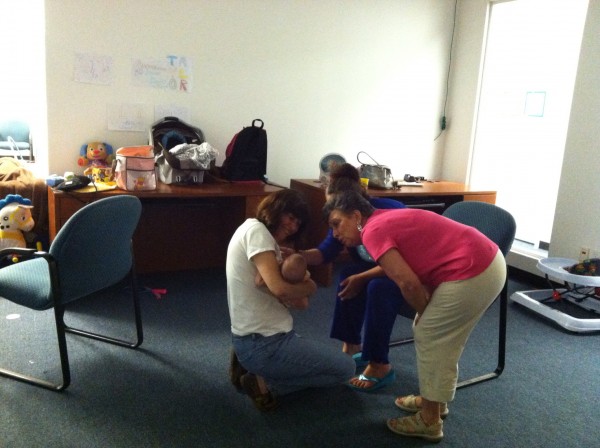 At this point in time, R. remains in the care of foster parents. My family and I are allowed a one hour supervised visit with her each week at a service center in Delray Beach. In between, we can't see R., nor are we given much information about her care or her daily life. We keep ourselves busy and occupied by preparing for the day (hopefully, soon) when she will be with us on a full time basis. This preparation  has included the "normal", happy things like setting up R.'s room, shopping for clothing and baby care supplies, and road testing strollers, but it has also included submitting to background checks, fingerprinting, and a home study- which is a two and a half hour long process which involves having your home environment evaluated for safety and suitability for a child, handing over your financial records, being grilled by a social worker regarding your motivations, and probing into every aspect of your personal (from birth on) and professional life, including your childcare philosophy and experiences. The social worker then writes a report, which must be reviewed, approved and signed off on by her supervisor and her supervisor above her, before a lawyer can write a request for a "transfer of care", which must then be approved by a judge.
I feel as if I am in limbo- neither here nor there. This week has included times of frustration, extreme sadness and longing for home and the people at home, a close and unwelcome encounter with a rat, and a bout of the stomach flu.
It has been a difficult and challenging week on so many levels, but I am not alone and without support. I have been buoyed by a constant outpouring of listening, love, prayers, calls, and encouraging messages from far away friends and family, as well as unexpected kindnesses from complete strangers, and people I have never met, but only know through facebook. I have discovered one of the greatest gifts and comforts is something that is within me, something  I carry with me- my understanding and practice of RIE,  not just as it applies to babies, but to all of those around me. Let me try to explain.
I will soon be R.'s primary caregiver, but for right now, she is in the care of others, and once she is with me, we will initially be living with my mother and my step-dad. I will continue to receive monthly visits from a social worker, and of course, I will do everything in my power to support R.'s parents (my brother and his girlfriend) to continue to develop their relationship with her. There is a lot of love surrounding R., and although I will be her primary caregiver, clearly I am not in "control", and I must accept that while I have my preferences and particular ways of doing things and being with her, others may not share the same ways of thinking, acting, being, or doing.
So often, when I'm counseling parents or mentoring students new to RIE, I am asked the question. "How do I help others understand?" I hear anguished stories from mothers and caregivers who are struggling because others don't understand, or their ways of interacting are different, and not respectful. Magda Gerber's counsel was simple:  "Don't stress – let others develop relationships with the infant/child in their own way." Janet Lansbury elaborates in her post Dealing With Parenting Differences Among Friends, Family, and Kind Strangers:
"Don't say anything."  AND  "Do model. It is easiest to appreciate a parenting style when we see an organic, spontaneous demonstration. Be a positive model of respectful care. You'll be surprised how much others notice, if they are even a little bit open-minded.  Strangers have approached me to say how much they enjoyed watching me interact with my toddler. The majority of RIE Parent/Infant Guidance Class referrals come from people who have admired their friends' children, or the quality of the relationship they have with them."
I recognize that this advice is easier to give than it is to practice. I am embarrassed to admit that when I was a new student of RIE, I struggled mightily with this advice. After having my eyes opened to a different way of being with and caring for babies, I wanted everyone to "get it" the way I thought I did. I harbored a lot of judgement and criticism towards those who didn't understand or know about the "right way" to respect babies. Early on, after having participated in one of my first RIE Parent/Infant Guidance Classes as a demonstrator, as I talked with Magda, I blurted out that I thought the classes would be much more enjoyable and beneficial for the babies, if only the babies didn't come with their parents. "The babies "get it", their parents don't." (Forgive me, I was young, and knew not what I was saying.)
In her typical wise, gentle fashion, Magda laughed, and said, "Lisa, try to be patient with them- and with yourself. Just keep doing what you are doing, and you will see- they will get it, and so will you." It's taken me all of fifteen years of practice to realize the complete wisdom of those words, and of Magda's message to me, but I humbly report that I am coming closer and closer to understanding…
Respecting babies means accepting that others may or may not interact with them in the way I'd like. Preaching, teaching, judging, and criticizing won't help another person to understand or to change, but my quiet, peaceful modeling, and the relationship I develop with R. will make a difference to her, and to me, and nothing else matters.
Magda advocated not just for respect and trust for babies and their process, she advocated for "respect for all people." She believed, "Having respect for the world is when you allow people to be what they are." I am "getting it", and because of that, I can relax, allow others to develop their own relationship with R., and not feel that I have to try to control them.
I am realizing more and more that RIE is not just something I "do" with children, but it has become a part of me, a part of who I am, not just with babies but with all the people in my life (although I admit- it is still much easier for me to practice with babies than with adults- but I'm getting there!). Yesterday, we had a visit with R. There was some kind of audit going on at the service center, and the place was swarming with people. Phones were ringing, doors were slamming, people were talking loudly, and we were relocated into a small, cramped office (instead of the play room) for our visit. R. was very aware of the changes, and it wasn't the easiest visit. A well meaning person turned on the bright overhead lights in the office we were in, even before she asked if we wanted/needed them, then she turned them off, and on again, for no apparent reason. R. arrived hungry, and was having lots of gas and cramps, and we had to change her on a desk top next to a computer screen and keyboard.
R. was a trooper through most of it, smiling and cooing, but after she was fed and changed, she started crying, and I could see she wanted to go back to sleep. This is the kind of situation that would have thrown me, in the past. I would have become anxious, and critical of everyone around me, and I would no doubt have passed that feeling of anxiety to R.
But yesterday, I did not become anxious. I stayed very focused on R., and very calm. I moved slowly. I talked slowly, and I stayed connected to R., and it created this kind of bubble of safety and peace around us, despite the circumstances. It was like everything and everyone else dropped away. My mother was feeling anxious, but I didn't engage in a struggle with my mother or try to stop her from being who she is, or doing what she does. I just slowly undid R.'s car seat buckles while talking quietly with her. When she was crying and all the noise and commotion was going on, I quietly held her, and acknowledged that I saw she wanted to sleep. I told her she was safe. When she startled, I acknowledged- "You heard the door slam. There are a lot of loud noises here today." She fell asleep in my arms with a deep sigh. And then it was time to say goodbye to her again for another week.
I maintained a peaceful space inside myself, and R. responded to this. It's so difficult to put this into words, but I wanted to try, because it's truly a miracle. I am understanding the beauty and the gift of RIE and how it works, on an ever deeper level, as I continue to practice and live it. THIS is why it is so hard to "teach" RIE or write about it. It really can't be conveyed so easily in words, and it really does come from practicing it and making mistakes, coming back to mindfulness and paying attention, and trying again and again to make the connection with the baby. It's not about anyone else or what they do or say, it's about who I am, and how I relate to R., and the relationship we are developing, and nothing else matters.There's room to allow others to have their relationship with R., too.