Is The "Happiest Baby On The Block" the Most Oppressed? Why I'm Not A Fan of the "5S" Method Of  Calming Crying Babies, continues to generate a lot of interest and (sometimes) heated discussion, eight months after it was first published.
One of the biggest arguments in favor of Dr. Karp's "Happiest Baby" books and videos, is that the technique works to calm babies and gives desperate parents useful tools, and some relief from infant crying, which is often referred to as colic, but is more accurately described as The Period of PURPLE Crying.
Some of you may be interested to know that the only published research regarding the usefulness  of the "Happiest Baby" method indicates: "The behavioral intervention, when (training for parents is) provided via videotape, does not seem to be efficacious in decreasing total crying among normal infants."
It was a small study, but it was randomized and controlled, and what stood out for me was that the babies who received intervention actually had slightly INCREASED (though not enough to make a significant statistical difference), overall daily crying times, and slightly SHORTER overall sleep times, and this was consistent across time, from 1 week to 12 weeks.
Additionally, there was no difference in the Parent Stress Index between the intervention and nonintervention groups at the 6 week mark.
So, if the 5 S's don't work to help soothe babies, and they don't help to reduce parental stress, and they do nothing to help you build your relationship with your baby, what does help?  I think maybe what we need is a whole new understanding of, and approach to infant crying.
First, it may help for all health care professionals to educate potential and new parents regarding what to expect in terms of normal infant crying.
Next, it may help for all of us to examine our own attitudes and feelings about babies crying.
Magda Gerber suggested:
"You expected to have a magic formula to always know what your baby needs – your baby cries and cries, it alarms you, you do not know what she needs or what to do. Realistically, had you watched parents with very young children, you would not feel so alien. You would have learned that all babies cry.
Of course, nothing really prepares you to experience your own feelings of empathy, irritability, helplessness and maybe even rage when you hear your baby cry. (Interesting article here explaining what happens in adult brains when babies cry.) However, it may help to remember that your baby comes into a world where everything is brand new. She is equipped with an immature physiological sphere. She needs to sort out sensations coming from within and a barrage of stimuli coming from the outer world. Her body looks tense, her movements spasmodic. She expresses her discomfort by crying.
It will take her some time to function more smoothly, to relax, to anticipate and respond to your care. How can you help? First, do accept that you don't understand instinctively what exactly makes your baby cry, nor what to do about it. Next, rather than responding mechanically with one of the usual routines of holding, feeding or changing your baby to stop the crying, start a dialogue with her. Tell her, "I see you're uncomfortable, and hearing you cry really upsets me. I want to find out what you need. Tell me. I will try to understand your cues and, in time, you will learn to give them to me so I do."

This is the start of lifelong honest communication. For a long time it may feel as if it is only one-sided, but delightful surprises in your baby's responsiveness will convince you how she was putting together all your words, gestures, and facial expressions all along.
Eventually you and your baby will develop a peaceful, predictable rhythm of life. Infants who do not need to adjust to too much unnecessary stimulation will regulate their sleeping and eating patterns. This, in turn, will give their parents some predictable time for their own needs and interests."
One of the most helpful things you can do for yourself and your child is to maintain your own sense of calm, which I recognize is sometimes easier said than done, but pays off in a more peaceful baby, and a stronger relationship with your baby.
A resource that I  can highly recommend is this little gem of a book called CALMS, A Guide to Soothing Your Baby, written by Debby Takikawa, DC, and Carrie Contey, PhD.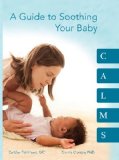 There is a lot of gentle wisdom packed into this short (100 page), easy read that explains an alternative to reacting or responding with a prescribed technique when your baby cries.
Very briefly, the authors suggest that when adults are faced with a crying baby, they take the following five steps to restore harmony:
A- Allow a breath.

L- Listen to your baby.

M- Make contact and mirror feelings.

S- Soothe your baby.
Each chapter of the book explains in simple, clear detail the how and why of each step, giving you practical tools, exercises, and words you can use to help yourself and your baby. There is a list of commonly asked parenting questions, and two pull out sheets so you can tape one on the fridge to remind yourself, and share one with others.
You might notice that the first three steps ask you to focus on yourself, and to listen to your baby, before making contact and trying to take steps to soothe your baby. The reason for calming yourself  first, before trying to calm or soothe your baby: "Babies understand and actually mimic and internalize their parents' inner states by reading their subtle expressions and body language cues….If you are feeling stressed or unsettled, your baby is tuning into that. When you are calm and settled, your baby will know that she is safe (the first, and most basic need), which will help her settle too."
I particularly appreciated the chapter entitled Why Do Calms?, where the authors share their view of babies and contrast it to our accepted cultural view. They write,"Typically, babies are seen as passive passengers in the womb and for some time after birth, not possessing enough brain structure to express meaningful communication and learn or maintain memories before they are able to speak."
Now, research is confirming what some (like Magda Gerber), have long maintained, which is that "babies are sensitive and aware in the womb and beyond; the newborn arrives as a whole person on a lifelong continuum of development; memory is being created through the emotions and senses from the very beginning; experiences before, during, and after birth have a direct effect on lifelong physical and psychological health; and a baby's earliest experiences and interactions with parents and caregivers influence how the brain and nervous system develop."
If we accept and adopt this view of babies, maybe it's just possible that we can replace the 5 S approach with CALM(S), and respect for what a baby needs and is capable of. And just possibly, we might all coexist a little more peacefully. What do you think?