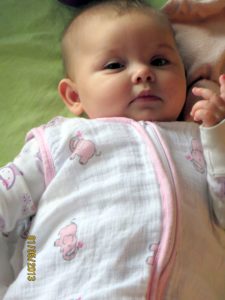 My girl is adopted.  She is my biological niece, and my daughter. We are four and a half years into our relationship together. I  unexpectedly became her mother at the age of forty nine years old, (after twenty five years of being a professional infant toddler caregiver and educator), under the most unusual and trying of circumstances. We have had quite the journey together. Late last year, she was diagnosed as autistic. This is a short meditation on what becoming and being her mother has meant to me, what I have struggled with, and what I am learning from her. I am sharing it with hope that it might speak to and inspire you, no matter what your story or your circumstances.
I am my child's mother. She chose me. I chose her. I am a good mother to and for my child. I am not a perfect person or a perfect mother, but I am the perfect mother to and for my child. I love my child. More importantly, I am committed to parenting her respectfully. I show up and do my best every day. I try to see her and understand her for who she is, apart from me. I try to honor her and her unique person-hood and journey and to give her what she needs to survive and thrive. I observe and listen to her closely, and let my intuition guide me to meet her true needs in the way that serves her best.
I  remain open. In meeting her needs, I also try to honor myself, to be real and authentic in relationship to her. I recognize that I have needs, limits, and boundaries, and it is OK and important to assert them. I can't always meet all of her needs or demands in a perfect or total way, as she would wish, and sometimes, she may be upset with me for setting limits, and that is OK. I need only to acknowledge her feelings, and to continue to be open, to listen, to observe.
I continue to seek, to question, to do my best for her and for myself. I won't quit. I won't leave. I won't give up on either of us. I won't stop loving her, listening to her,  or trying to understand her. I will make mistakes. I will fall. I will fail. I will misunderstand. But I will learn from my mistakes. I will admit them. I will apologize. I will seek, ask for, and accept help for both of us, if need be. I will move on. And so will she.
I choose to believe that my love, my commitment, my trying is enough. Good enough. Enough to make a difference for her and for me. Enough to bond us together. Enough to nurture her and launch her into the world in a happy (enough), healthy (enough) way so that she can survive and thrive. Her journey, her experience of life, of people, will be different than mine, and that, I believe, is a good thing. Although she has experienced much struggle in her short life, I hope that our relationship will be a bedrock for her, even when I am no longer present on this earth. I hope she will learn and feel that although I am not perfect, although I often feel inadequate, broken, lost, and alone, although I often make mistakes, I show up for her. I seek to see her for who she is, to celebrate her unique strengths. I believe in her. I am there as a guide, and on her side, not hovering, but available. I am her greatest advocate and cheerleader. She is my greatest teacher. I aim to make better and different choices for both of us, than were made for me when I was growing up. I strive to understand myself and my past in order not to revisit upon her what was done to me.
Again, I am not perfect. I fall. I fail. I make mistakes. But always, I get up and try again. I lead with love. I lead with a desire to know, understand, and celebrate her for exactly who she is. I lead with an open heart and an open mind. I continue to learn and grow so that she can learn and grow. We are a work in progress, both of us, and our relationship. It is perfect as it is, even when it doesn't look pretty from the outside, or the sailing isn't smooth.
I love. I love. I love. I show up. I try. I try. I try. I trust. I let go. She lights the way for both of us. And that is enough. That is all. May she grow up to know this. May she feel it. May it be enough. It is enough. It is all.
On Children
Kahlil Gibran

Your children are not your children.
They are the sons and daughters of Life's longing for itself.
They come through you but not from you,
And though they are with you yet they belong not to you.

You may give them your love but not your thoughts,
For they have their own thoughts.
You may house their bodies but not their souls,
For their souls dwell in the house of tomorrow,
which you cannot visit, not even in your dreams.
You may strive to be like them,
but seek not to make them like you.
For life goes not backward nor tarries with yesterday.

You are the bows from which your children
as living arrows are sent forth.
The archer sees the mark upon the path of the infinite,
and He bends you with His might
that His arrows may go swift and far.
Let your bending in the archer's hand be for gladness;
For even as He loves the arrow that flies,
so He loves also the bow that is stable.
With love and thanks to the many therapists, teachers, friends, and families, too numerous to mention, who have prepared me, guided me, inspired me, and supported me in this journey, but most especially, to Magda Gerber, and Janet Lansbury.