Here's what you need to know and understand about babies, even very young babies. They are competent, alert, paying attention, and learning all the time. Don't ever doubt it.
Experts used to believe (and some still do) that an infant peacefully lying awake in his crib couldn't possibly be 'doing' anything, or at least not anything worthwhile. One influential author even believes that babies "should not be put down at all" and that "babies placed in cots live in a state of longing…" These subjective assumptions and projections are not only untrue, they grossly underestimate the infant mind and are, quite honestly, a little egocentric on the part of the adult. Babies are only capable of being followers, never initiators? They have no mind or will of their own? They can't take an interest in life unless they are in the arms of an adult? Janet Lansbury, The Secrets of Infant Learning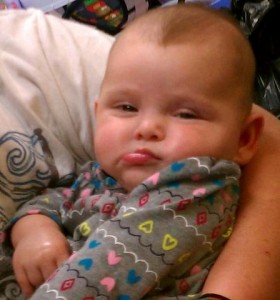 A short story to illustrate: R. is just a bit older than four months. We visited the pediatrician on Monday, and I told him that in reviewing her medical records, I had noticed that he had recommended she start taking a daily dose of Vitamin D drops back in September, yet her previous foster parents hadn't mentioned this to me, nor had they provided me with drops. I was wondering if maybe they had been discontinued for some reason.
The pediatrician confirmed that he had recommended the drops, and she should be taking them every day, so I purchased them. On day one, R. eagerly accepted the drops, sucking them down without a problem, although she slightly furrowed her brow at the taste. Of course, I explained to her that these were her vitamins, and she needed them to grow healthy and strong, and I understood that they didn't taste as good as her milk.
On day two, three, and four, she cooperated with taking the drops, although a little less readily, and again with a furrowed brow, and a bit of a grimace at the taste. I am trying to establish a consistent rhythm and routine with her, so I always give her the drops at about the same time of day, after a diaper change, and before her bottle.
Today (day 5), as soon as she saw the dropper, and heard me say, "It's time for your vitamins," she tightly clamped her lips shut! She knew what was coming, and her message was clear. "I don't like these vitamins, and I'm not interested in participating in taking them." I stayed calm, and explained that she needed her vitamins, and asked for her cooperation. She resisted. She pushed my hand away. She spit the vitamins, no matter how slowly I dispensed them from the syringe. She cried, and kicked her feet. She pouted, and made raspberries, but not the ones she makes when she's playing and happy. These were more like "PFFFT…. This is yukky, and I don't like it!"
At four and a half months old, R. clearly knows what she likes and wants, and what she doesn't. She clearly understood what was coming when she saw the medicine dropper today, and she let me know in no uncertain terms that she wasn't interested in participating. She is clear and strong willed, which delights me to no end. I believe these traits will serve her well in life, and I admire her spunk.
As much as possible, I want to honor R.'s preferences. But vitamin drops are not negotiable. So, even though she protests, I will continue to give them to her in as respectful  a way as possible, asking for her participation and cooperation, acknowledging her feelings, and letting her know that I hear her, and understand that she doesn't like them. I will also search for a brand that meets my standards for quality, but might be a bit more palatable to her, and hopefully she will learn to appreciate that while they don't taste great, taking her vitamins is important, and I'm not needlessly torturing her!
Do you have a story to share that illustrates a young baby's incredible learning ability and competence? I'd love to hear it.