From my mailbox:
"Mornings have always been my biggest struggle. I'm not a morning person. Mornings at our house are always chaotic, the children are cranky and picking at each other, someone inevitably ends up yelling (me), and sometimes we all end up in tears, not to mention I end up forgetting important things (my child's lunch) at home. It feels like we all get off to a bad start every day, and then we are apart all day. I'm looking for suggestions on how to make mornings more peaceful and how to make it easier for me to be respectful and connect with my children while still getting out the door on time. I'm also wondering how much time I should give myself to get out the door? I currently do an hour. It feels rushed, but getting up earlier is so hard."
I am with you. Mornings have never been my forte. For me, saying, "I'm not a morning person," is the understatement of the year.  I am a single working parent and am lucky enough to be able to set my work hours. I never schedule any meeting before 10:00 am if I can help it. My six-year-old just started Kindergarten this year, and the morning meeting at school begins promptly at 8:30 am. It is the first time we have had to get ready and out of the house on time for anything. Previous to attending Kindergarten, my girl participated in a small home-based preschool for three years, but drop off could occur any time from 8:00 am to 9:15 am, and hot fresh snacks and lunch were served daily, so all we had to do was show up. The days at Honalee preschool began slowly with free choice play and leisurely check-ins with teachers.
Now, I have to prepare and send lunch and snacks to school, and there is always something to remember (books to be returned for library day, a particular shaped item for share day, homework, permission slips, baked goods for the school bake sale, etc.). Parents are encouraged not to linger. Drive time is about 15 minutes, so that has to be factored in. My girl is up early (usually before 7:00 am) but likes to take her time, and becomes anxious if I am hurrying her. During the first weeks of school, our mornings were chaotic and stressful, and we were more often late than not, she forgot her glasses more than once, and there were tears all around. It was not ideal, or anything even close to acceptable. I knew something had to change, and as usual, that something was my approach. Here is what is working for us:
Set the scene: Better mornings begin the night before. With a little bit of planning and organization, you can set yourself, and your children for a (relatively) stress-free start to the day before heading off to school and work. For us, this means doing everything that can be done to prepare for the next day the evening before. I hung a large monthly calendar on the wall that notes events and reminders about field trips, sharing days and themes, special events, volunteer days, and school vacations, and made a simple checklist (words and pictures) for myself and my girl and tacked it up next to the door. It has become a nightly ritual for us to check the calendar and the weather for the following day before bed. My girl chooses and lays out clothes for the next morning. We pack her backpack and place it by the door. We clean her glasses and put them in their case in a basket by the door.  Shoes are in the basket by the door, coats and raingear hung on low hooks by the door. My girl sets the breakfast table. I prime the coffee maker and plan simple breakfasts that include protein and which I prep ahead of time (two appliances which have become indispensable are the Dash egg cooker and an Instant Pot).  I cook extra portions of whatever is for dinner and pack her lunch and fill her water thermos the night before. I also write a love note which I include in my girl's lunch. Simple: A heart, "I love you," and a kitty sticker, just to let her know I am thinking about her. I thought she didn't even notice or care until one day when we were running extra late, and I skipped the note. When she greeted me at the end of the day, the first thing she said was, "I am sad because you forgot to write me a note today."  Be sure to involve your children in the routines as much as possible, to include their ideas if they are old enough to share them, and to make accessible and organize things like clothes, shoes, and outerwear in a simp;e way so that children can find them and help themselves.
Make sure everyone is getting to bed at a reasonable hour, including you. My girl is in bed and asleep by 7:30 pm. I, on the other hand, am often up much too late. I set a bedtime for myself of 10:00 pm and set an alarm a half hour before to remind myself to turn off the computer and begin to wind down and prepare for bed.  I am finding it easier to wake up and stay calm and present throughout morning routines when I am in bed by 10:00 pm, and getting two to three hours more sleep than previously. I needed to commit to getting my rest as much as I was committing to helping her get hers.
Create a simple and predictable morning routine and let your children participate. Get yourself dressed first, and then focus on your child(ren). We dress, feed the cat, sit down for breakfast, and then head upstairs to brush teeth together, before doing a quick once-over of our checklist to make sure we have everything we need before heading out.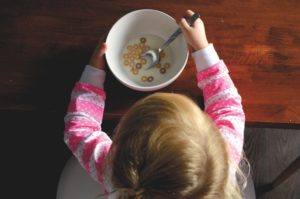 Start slow, begin earlier than you think you need to, and take a minute to center yourself. This exercise can be short and sweet. Just pause, take a deep breath, and mentally set an intention for the day before moving into action. I find inspiration at Daily Om. I was resistant to this idea until I tried it. I tend to jump right into task mode when I wake and have found that taking just five minutes to slow down and reflect consciously is a much more peaceful way to start the day. I don't think I will ever be able to get up earlier than my girl, but some people swear this is possible and worth it. I tease that she and the cat are my alarm clocks and as long as I have them, I don't need to set one. We have a morning ritual which I love, and which works for us.  My girl comes downstairs and hops into bed with me for a cuddle before we get up to dress and eat. I sit down and eat breakfast with her, and we talk (as opposed to me rushing around trying to make lunch, find lost shoes, etc., while she sits at the table alone).  I savor these moments of closeness and connection, and she seems to be more calm and cooperative when it comes time to get ready to go.
Keep the TV, radio, computer, and phone off. Keeping the TV off was easy for me, since we don't have one, but the phone was a bigger problem. Because I am self-employed and a lot of my work is online right now, it is so tempting to try to multi-task, read or respond to a few email messages or texts in between getting ready to leave. I decided that the phone would stay off until after I had dropped my girl at school. No email or work-related matter is so important that it can't wait until 8;30 am.  Keeping the phone off allows me to be fully present with my daughter in the morning and make the most of the short time we do have together before school.
I would love to hear from you if you have found ideas that work to create better mornings in your home.