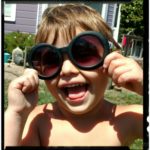 I am so excited and honored to be teaming up with Janet Lansbury to offer an afternoon question and answer symposium in Santa Cruz, CA , on October 7, 2017. I hope some of you will be able to join us. It is sure to be a lively discussion! Tickets are available now, and you can purchase by clicking on the link below.
Each  paid ticket will also be entered into a drawing to win prizes such as signed copies of Janet's bestselling books,
Elevating Childcare and No Bad Kids
, a personal phone consult with Janet or me, a free parent/infant class, and a infant toy basket.
For those of you who can't attend, Janet offers wonderful resources online to support you in your parenting journey, including her Respectful Parenting podcast series, and new recorded
sessions
, which are are individual recordings of live consultations with parents discussing their most pressing parenting issues.