Develop your parenting skills with Regarding Baby to:
~ Understand & respond sensitively to your baby's cries
~ Transform routine care giving chores (diapering, feeding, bathing) into times of connection and co-operation
About Regarding Baby
The word Regard has several meanings; a protective interest, a feeling of respect and affection.
One of my most important teachers, Magda Gerber, often talked about helping parents and caregivers to see babies with "New Eyes." Since my area of expertise is infants and toddlers and I focus on helping parents learn to relax and slow down, do less, and to respect and respond to their baby's needs through sensitive observation, Regarding Baby seemed to make perfect sense as a name.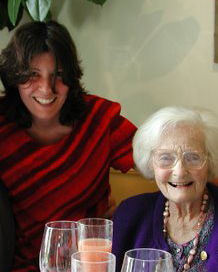 RIE Certified child educator Lisa Sunbury & RIE founder Magda Gerber
 About Lisa
I have dedicated my life to caring for, supporting, and advocating for infants, toddlers, and their parents. I have over twenty years experience working in the field of Early Childhood Education, in a variety of roles.
After earning a Master's degree in Early Childhood Education from Lesley University, I worked as a nanny, and as an infant/toddler teacher in several respected childcare programs. While attending a workshop led by Diana Suskind, which focused on the unique needs of infants and toddlers in child care centers, I was introduced to Magda Gerber's philosophy of infant care.
Intrigued by Magda's work, I went on to study with her for three years at the original home of RIE (Resources For Infant Educarers), in Silver Lake, California. There I earned a certificate of completion in the program to become a RIE Associate. I remained in California for ten years, teaching Parent/ Infant Guidance Classes, consulting for childcare programs, and mentoring adults in the RIE Approach. In addition, I served for two years as the Site Supervisor for Cottage Hospital's Infant/Toddler Program, which was the only RIE Certified program in California at the time.
I also taught RIE Foundations through University of California Santa Barbara, have presented at several early childhood conferences and had my writing published in the RIE Newsletter and the Giant Encyclopedia of Activities for Infants and Toddlers.  
I previously served on the RIE Board of  Directors and as a member of the board at Santa Cruz Toddler Center.
I maintain professional memberships with RIE and the National Association of Early Childhood Education (NAEYC).
In 2012, I left my position as a nanny for the family I had been caring for for seven years to move to Florida to become a relative caregiver to my to my  newborn niece. (Her adoption was completed this past year, in May of 2015.)  In 2014, I returned to Santa Cruz, with toddler in tow, and worked briefly as a teacher at Santa Cruz Toddler Care Center. In addition, I  have been providing phone consultations for families and teaching RIE parent/infant education classes since 2012. This year, I am looking forward to expanding class offerings and workshops, and offering additional resources online.